Music Ministry
The music ministry at Second Baptist Church is composed of men, women, and children of all ages who desire to honor God with their love for singing and playing instruments. Each aspect of our music ministry exists to lead and inspire people to worship and to follow Christ. We offer a variety of times, styles, and settings for people to participate in this important ministry.
Do you love music? JOIN US! We have many opportunities for you.
Adult Music
Second Voices - 7:00 - 8:15PM Wednesday in the Choir Room (Music Suite)
Second Voices, in partnership with the Second Baptist Orchestra, offers up their voices in praise to God with joy and passion each Sunday in both worship services. Second Voices is open to any adult who enjoys singing. No audition required! This community of singers also offers seasonal presentations during Christmas and Easter.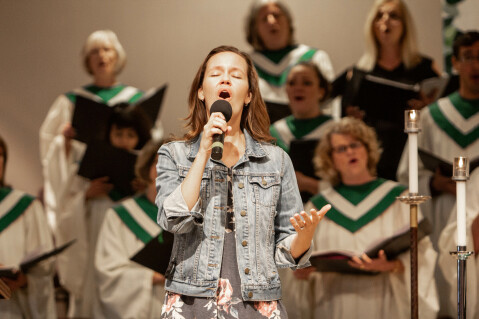 Second Baptist Orchestra - 6:00 - 6:45PM Wednesdays in the Choir Room (Music Suite)
The Second Baptist Orchestra is an ensemble made up of advanced student and adult instrumentalists committed to leading in a weekly worship service. The adult orchestra partners with Second Voices to provide inspirational congregational music each Sunday morning. Members of the orchestra are often featured in worship and special program events throughout the year. The SBO plays from late August until early May. If you are interested in learning how to be part of this important ministry, please complete the form below.
Bells Gloria - 5:30 - 6:30PM Sunday in the Handbell Room (Kids Wing, Room 101)
Bells Gloria is an inter-generational group which rings on 5 octaves of handbells and handchimes with an emphasis on music for worship. The ensemble plays in worship monthly. For the past few years Bells Gloria has been one of the featured concert artists at the annual South Plains Nativity, and several members also participate in Lubbock Concert Bells, a community handbell ensemble which plays all types of music. Small ensembles are also a part of the Bells Gloria ministry and play in worship settings as well as in outside venues such as assisted living facilities.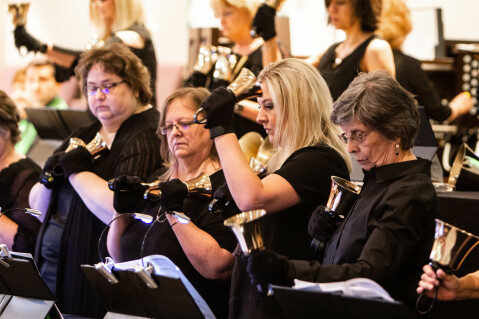 Men's Ensemble - 6:30 - 7:00PM Wednesday in the Grand Hall
This ensemble is made up of men of all ages who also sing in Second Voices.
2B Women's Choir - Rehearsals (To Be Determined) in the Choir Room (Music Suite)
For all adult women who love to sing! All levels of musical experience are welcome! We meet seasonally for 4-5 rehearsals before singing in worship.
Kids Music
Second Sounds - 6:00 - 7:00PM Wednesday. 1st floor of the Children's Wing, Room 110
Our choir for younger kids. Kids learn music basics and have a fun choir experience! 4-year-olds to kindergartners will learn through music, art, movement, and play as we plant seeds of faith throughout our time together. The kids participate in hands-on, age appropriate lessons in music. Second Sounds also joins with Second Beats to participate in special programs and worship during the year.
Second Beats - 6:00 - 7:00PM Wednesday. 2nd floor of the Children's Wing, Room 202
Our choir for older kids (1st - 5th grades). Kids develop their singing skills and have fun while learning about worship through music! The kids also participate in hands-on, age-appropriate music activities. Second Beats join with Second Sounds to participate in special programs and lead in worship during the year.
Genesis Ringers - 5:00 - 6:00PM in the Handbell Room (Kids Wing, Room 101)
Genesis Ringers is compromised of children and youth who are learning to ring bells and handchimes. This ensemble plays in worship and children's music programs several times during the year. New ringers are always welcome.
Music and Arts Camp - week long camp held in late July or early August each year
At Music & Arts Camp, children explore a variety of music and art expressions through the presentation of a camp musical in addition to choosing from a selection of Exploration Classes designed to help them explore specific areas of interest. Both Music and Exploration classes are taught by qualified, professional teachers in each area.